Have you ever wondered if hemp seeds live up to all the hype?
Are they just another food that made its way into the spotlight thanks to some crafty marketing and nostalgia to the hippy Woodstock days?
Or are they really worthy of their superfood title?
Hemp seeds are rapidly growing in popularity throughout the world. Also known as hemp hearts, this nutrient dense food source is rebounding after years of negative press.
Do hemp seeds really live up to all the hype?
Doesn't it feel like every week a new product gets added to the superfood list?
Then not too long after you've stocked up on this super food, a new study comes out showing that it's either super bad for your health or just not as super powered as you were led to believe.
So what gives?
Being mindful of what you put in your body is incredibly important for both maintaining a proper diet as well as a healthy relationship with your food.
But where do hemp seeds fit in?
Are they just a fad or truly a worthy investment?
For a long time, hemp products have been blacklisted because of their relationship with marijuana.
Yet despite the negative press, hemp seeds continue to grow in popularity thanks to their amazing health benefits.
Here we take a closer look at hemp seeds to see how they really live up to all their hype.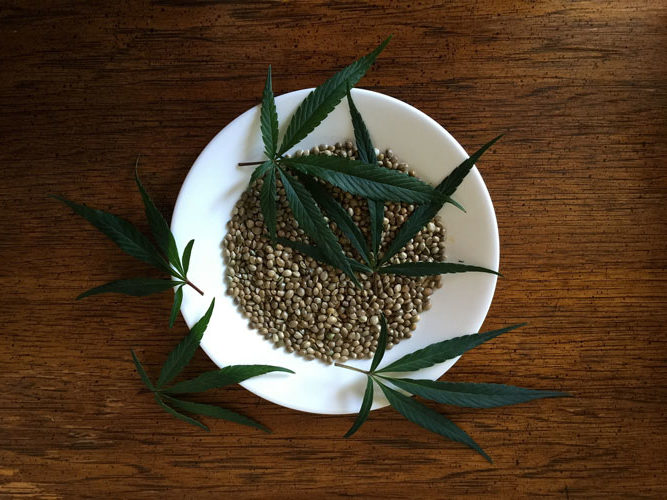 What is hemp?
Simply put, hemp is the non-drug variety of cannabis (Cannabis sativa L.). Hemp seed (also called hemp nut or hemp hearts) have been produced for thousands of years because of their high nutritional value, hardiness, and versatility.
Unlike marijuana, hemp doesn't have any psychoactive content. It's "safe" to eat without any drug-like side effects.
Many industries such as food, cosmetic, pharmaceutical, nutraceutical, textile, construction, and manufacturing use hemp in their products.
Despite its numerous applications, hemp production in many countries such as the United States is limited because of its association with marijuana.
What are the health benefits of hemp seeds?
Hemp seeds contain compounds that benefit conditions such as:
rheumatoid arthritis
allergies
attention deficit hyperactivity disorder (ADHD)
breast cancer
eczema
acne
high blood pressure
osteoporosis
premenstrual syndrome (PMS)
constipation
Hemp seeds contain over 30% oil. 80% of their oil is polyunsaturated fatty acid. These fatty acids help reduce LDL (bad cholesterol) levels and are essential for good heart health. Additionally, polyunsaturated fatty acids, such as the kind found in hemp seeds can help reduce your chance of having a heart attack or stroke.
When it comes to minerals, hemp seeds don't come short either. In a 30 g serving, the seeds contain 20 g of calcium, 3.6 g of iron, 180 g of magnesium and a whopping 450 mg of phosphorus (1).
Hemp seed is considered a perfect protein because it contains all of the essential amino acids (2). In addition to being 25% protein (mostly easily digestible edestin and albumin), the seeds are also a great source of dietary fiber and vitamins.
The oil extracted from pressed hemp seeds is also full of essential fatty acids. In fact, hemp seed oil contains an optimal balance of linoleic acid (omega-6) to alpha-linolenic acid (omega-3) (3) and is great for healthy hair and skin.
Hemp most notably contains gamma-linoleic acid (GMA) that's been used in treatments for diabetic neuropathy, rheumatoid arthritis, allergies, ADHD (attention deficit hyperactivity disorder), breast cancer, eczema, acne, high blood pressure, osteoporosis, and PMS (premenstrual syndrome) according to the University of Maryland.
Can you get high from hemp seeds?
Quite simply, no. If you eat hemp seeds, you will not get high.
Hemp contains trace amounts (0.3%) of the psychoactive compound THC (Tetrahydrocannabinol). Marijuana on the other hand contains upwards of 5% THC.
THC remains detectable in the bloodstream for several days after exposure, long past the psychotrophic effects have worn off (4).
If you work somewhere that has routine drug tests, you know  that it's very important to stay clear of any incriminating substances that could affect your results.
This is one reason why many people have been skeptical about trying hemp products in their diet.
Most stores that carry hemp seeds sell the hulled variety. The hulling process involves stripping away the outer shell of the hemp seed along with its THC content. Through this process, they become "safe" to consume without any of the narcotic effects and won't show up on drug tests.
North American hemp producers initiated a program called TestPledge to provide assurance to consumers that their products contained virtually undetectable amounts of THC.
The TestPledge program requires companies to keep the THC levels in their products incredibly low. How low? Low enough that you can safely consume several kinds of hemp products including seeds and oils while using hemp based cosmetics and remain under the 50 ng/mL detectable THC limit in a random drug test.
Companies who are part of the pledge program must adhere to the following THC limits:
Hemp oil: 5.0 parts per million (ppm)
Hemp nut (seed): 1.5 parts per million (ppm)
Other uses of hemp
The hemp industry is seeing renewed interest throughout the world.
Whether for clothing, fuel, plastic, textile, and paper production, there are many potential uses for this versatile crop.
In fact, up until the 1940s, hemp products set the standard to which all other products were compared (5).
Hemp plants have demonstrated their resilience to pests and disease for millennia, and are now one of the only crops grown in Europe on non-organic farms without the use of conventional chemicals (6). Hardy, strong, and fast growing, hemp can survive harsh growing climates.
Developing countries are looking into hemp production as a way to help limit their dependence on unsustainable cash crops such as cereal and cotton (7).
Summary
In summary, these nutrient dense, protein packed, nutty flavored seeds seemed to have gained their superfood status for good reason.
Loaded with healthy fats, vitamins and minerals, these tiny little hemp seeds offer huge return on their nutritional value without any risk of narcotic effects.
Despite the fact that their popularity has only recently emerged in the health food scene, this ancient food is certainly deserving of its place in the spotlight.
How about you?
Do you think that hemp seeds live up to all their hype?