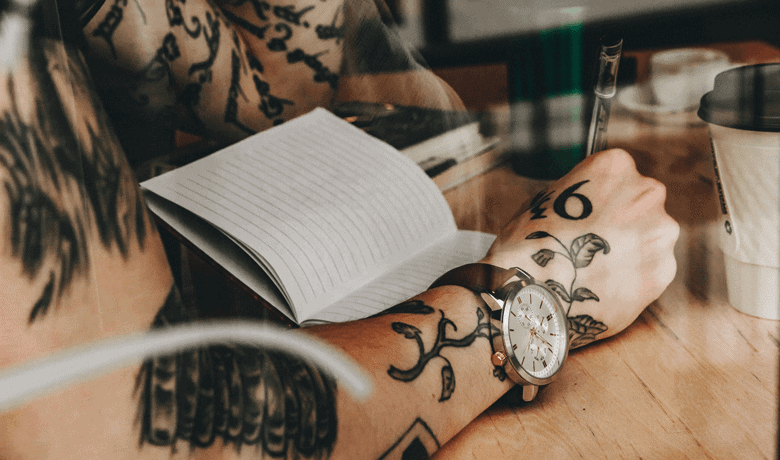 For thousands of years, people have been keeping journals.
Long before the days of cute stationary and pretty pens, people documented their thoughts, feelings, and daily life on things such as rocks, leaves, and clay tablets.
Journals and diaries have proven their value over the ages.
They're an outlet for your thoughts, a confidante for difficult experiences, a repository of dreams, and a practical meditative tool.
In addition to encouraging down time for daily reflection, the practice of expressive writing has been linked with various benefits including improved health, wellness, and productivity.
Mindful journaling is a great way to open an honest dialogue with yourself. It can help you become more aware of your emotional triggers, ruminating thought patterns, and even improve your meditation practice.
See for yourself how just a few minutes of meaningful writing can make a big difference in your life.
Why practice mindful journaling?
Journals have been around for thousands of years.
They've been used to document personal experiences, record events, note business transactions, and much more.
Mindful journals are a little different from your regular journal or diary. Instead of just writing about your daily experiences, they're a medium through which you can explore your mental landscape, emotional triggers and present moment awareness. They can be used as meditation tools to help guide and record the development of your practice.
Mindful journaling makes you more conscious of things going on around you. Think of it as a way to scan and record your day, and documenting thoughts or events that stand out. It's a process that allows you to capture snapshots of your life so that you can come to terms with challenges, derive wisdom from experience, and express feelings of gratitude.
This form of writing is a way to express yourself in a manner that is free from judgement, fear, or expectation. It teaches you self-compassion, acceptance, and how to pay attention in your own life. Additionally, mindful journaling is useful for identifying moments and triggers when your mind disengages with the present and goes off wandering.
Benefits of mindful journaling
Researchers have found that keeping a diary or journal can be immensely beneficial. While writing about a specific topic for example, it both creates and nurtures awareness. Additionally, if practiced regularly, it can induce change based on this awareness.
In therapeutic applications, expressive writing has been found to improve patient's wellness and in some cases, their recovery. A study conducted with patients suffering from fibromyalgia found that writing intervention reduced pain levels, fatigue, and improved overall well-being. Similar results were found in other studies involving people with conditions such as asthma, breast cancer, and rheumatoid arthritis.
In addition to being a useful reflective practice, journaling has been linked with many benefits such as:
helping you express your thoughts and feelings without fear of judgement
assisting in processing of difficult experiences
releasing destructive emotions in a controlled manner
making you more aware of emotional triggers
boosting creativity
increasing your communication skills
relieving stress
making you more awareness
offering reprieve for conditions such as asthma, breast cancer, rheumatoid arthritis, and fibromyalgia
providing an opportunity to identify any negative self-talk
How to practice mindful journaling
If you've ever tried to keep a diary or a journal, you'll know first hand that sometimes it's hard to decide what to write about.
And this is totally okay!
In fact, it's a lot more common than you think to have trouble getting started with your entries.
Here are a few tips to help you get started:
Start by putting yourself in mindful space. Slow down your mental chatter and begin to focus on your breath as a way to ground you for this practice.
It's always a good idea to "arrive" before you start writing. If it's challenging for you to get grounded, try practicing walking meditation or a short breath exercise to help you become fully present before you even open your book.
Take out a journal, start a fresh document on your computer, or open a new notes tab on your phone. (Try not to read the previous entry until after you've finished the one for today).
Allow yourself to have enough time for reflection. Focus on being present and not thinking about anything on your to-do list. Being here right now is all you need to commit to at this moment.
Take a few more deep breaths and release any feelings of expectation or judgement from yourself. This practice of meaningful expression can be incredibly rewarding if you dedicate your time and presence to it. Have patience and compassion as you get into the rhythm of your writing.
Reflecting about an event, focusing on self-affirmation, expressing gratitude, or searching for meaning can all be powerful drivers for your writing. Allow yourself to be drawn to whatever it is you feel like you need to express today.
If you're wondering where to begin, you can think about your mindful practice today as well as any triggers that encouraged your mind to wander.
Notice if there are any repetitive thoughts that are circulating in your mind and pulling your attention away from the here and now. Are you scared, stressed, nervous, or excited about something? Does something or someone set you off of your mindful course?
Another great way to get started is to practice your awareness skills by focusing your attention to something around you. It can be a cup of tea, a plant, or your pet. Note all of the small details that you can about the subject of your investigation. Become fully aware of everything you can about your chosen item or creature.
Make a ritual out of your writing. Every day around the same time, follow a routine such as 2-minutes of sitting meditation followed by one minute of stillness before writing. If you enjoy the benefits of aromatherapy, try to use some meditative essential oils to help inspire tranquility and mental peace. Walking meditation can also help you clear your mind both before and after a writing session.
If you're finding trouble locating a source of inspiration or prefer to have a bit more of a guide to get you started, try one of the mindful journaling prompts below.
Try to come back to your practice every day. Choose a time that works well for you and make writing part of your routine.
Mindful journaling inspiration
It's our hope that whenever you're feeling stuck or struggling to get an entry started, one of our journaling prompts will help inspire you.
They're simple, easily adaptable, and might be useful in breaking the ice as you connect with yourself.
Remember – mindful journaling is a practice through which you connect with yourself in the present moment. Don't concern yourself with grammar, punctuation, or even the length of your entry.
Let your words flow naturally and embrace the journey.
50 mindful journaling topics
1. I am grateful for…
2. I honor myself by…
3. I am proud of myself for…
4. I can be kinder towards myself by…
5. If my body had a voice it would whisper…
6. I am happiest when…
7. I feel so beautiful when…
8. I forgive myself for…
9. I recognize these strengths in myself…
10. I am no longer afraid to…
11. I showed courage today by…
12. I feel most energized when…
13. I should listen to my body more when…
14. I could be kinder by…
15. I can become more patient by…
16. I am so in love with…
17. I am so inspired by…
18. I felt so much joy when…
19. I know I am capable of…
20. I nurture myself by…
21. I honor my body by…
22. I am in tune with…
23. I can follow my passions…
24. I have come to peace with…
25. I have learned to let go…
26. I am going to try…
27. I am so excited about…
28. I believe that I can…
29. I know that I will…
30. I am so blessed to…
31. I appreciate my family because…
32. I honor my body by…
33. I take time to care for myself by…
34. I listen to my intuition by…
35. I allow myself to become inspired by…
36. I permit myself to feel…
37. I grant myself permission for…
38. I recognize my value by…
39. I am truthful with myself about…
40. I gift myself…
41. I am aware that…
42. I am practicing self-care by…
43. I believe in…
44. I trust that…
45. I release…
46. I am aware of…
47. I am free to
48. I will discover…
49. I take the road…
50. I believe this adventure will…


Take away
Mindful journaling can be a creative healing practice.
Even a few minutes each day can help you achieve a more tranquil mental landscape and improved physical wellness.
Cultivate a regular daily practice of reflection, appreciation, and inner peace through mindful journaling.