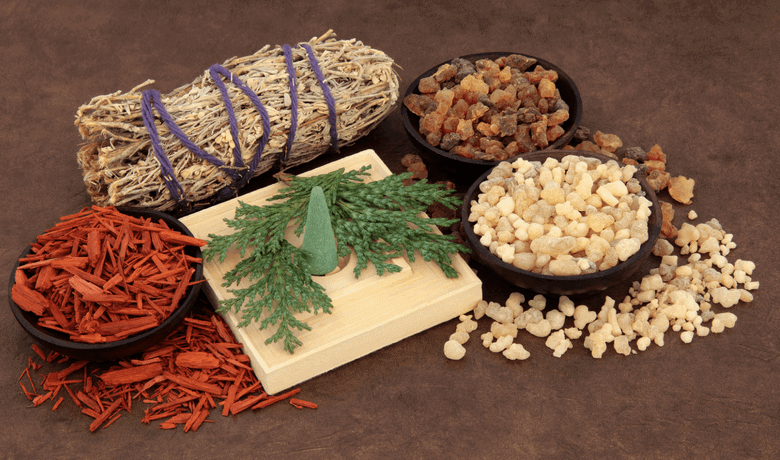 Organic sandalwood essential oil is one of the most sought after oils in the world. Because of it's high demand, it's also one of the most expensive natural products on the market.
Sandalwood is characterized by a sweet, earthy, and exotic smell. It's a popular ingredient in perfumes, colognes, incense, scented candles, and health care products.
This essential oil offers many benefits for meditation, spiritual grounding, as well as many scientifically supported health benefits.
Organic sandalwood essential oil for meditation

Be like the sandalwood which perfumes the axe that wounds it.
Sandalwood essential oil promotes grounding and connectivity. Use it as part of your practice to centre yourself, quiet your mind, and cleanse your sacred space. This relaxing fragrance is calming in nature and helps release anxiety, fear, and stress.
Sandalwood has been used for thousands of years in Hinduism, Buddhism, Jainism, Sufism, Zoroastrianism, Chinese and Japanese religions. It's a common aroma in incense, prayer candles, and offerings.
You can easily incorporate sandalwood essential oil into your practice by:
Adding it to a diffuser or oil heater
Applying the oil to your wrists or hands, rubbing together and then deeply inhaling the aroma
Smelling the fragrance straight from the bottle
Mixing it into a spray bottle with some distilled water and spritzing the air in your meditative space
You can also try mixing a few drops of the oil the next time you wash your meditation shawl, blanket, or clothes to carry the scent.
Additionally, we also add a few drops directly on our meditation blankets. Keep in mind that the oil could stain some materials. It would be best if you used it on coarse weave fabrics such as wool blends that are darker colors.
Eye pillows and sachets are also great vehicles to transport the warm, woodsy, and spicy aroma. A few drops of organic sandalwood oil to your eye pillow during savasana or meditation is incredibly relaxing and helps to restore spiritual and energetic alignment.
Another great way to use organic sandalwood essential oil is to mix a few drops into your yoga mat cleaner. This will help kill off unwanted germs and infuse the mat with a beautiful calming aroma.
Sandalwood contains sedative agents. According to a recent study, sandalwood's sedative effects are most powerful when used in a synergistic blend with galangal, patchouli, spikenard, and borneol essential oils.
A few tips on using sandalwood essential oil:
Traditional uses of sandalwood essential oil
Sandalwood essential oil has been used since the time of the Egyptians for medicinal, ritual, and beautification practices.
It's particularly revered by Hindu traditions and is widely used throughout religious ceremonies. Sandalwood continues to be used in Ayurvedic and Chinese medicines.
Harvesting of organic sandalwood essential oil
Sandalwood essential oil comes from a fragrant tree that's most commonly found in India, Sri Lanka, and Indonesia. The oil is extracted from the heartwood and roots of mature trees that are a minimum of 15-30 years old.
The tree material is harvested and then chipped into small pieces. The pieces are then ground into a powder. Sandalwood essential oil is harvested from this powder using steam distillation methods.
Sandalwood essential oil contains sesquiterpene olefins and alcohols. These compounds are what give the tree its fragrance. The main compound α-santalol, has been found to offer numerous health benefits such as anti-cancer effects.
In order to be considered authentic sandalwood, the oil must contain a minimum of 90% santalols according to the United States Food and Agriculture Association.
Organic sandalwood essential oil offers many benefits for health and wellness. Uses of this powerful oil include:
Antiseptic
Astringent
Aphrodisiac
Reduction of scars
Promotes relaxation
Digestive aid
Chemopreventive against skin cancer
Bladder health
Cough suppressant
Fights infection
Lowers blood pressure
Relief from stress and anxiety
Beauty products
Sedative
Personal care products
Treatment of radiation dermatitis
Bug repellent
Treatment of the viral skin infection molluscum contagiosum
Acne treatment
What kind of organic sandalwood essential oil is best?
There are more than 18 varieties of sandalwood tree species in the world. These small evergreen hemi-parasitic trees are found throughout South Asia, Australia, and Hawaii.
Sandalwood trees are very difficult to grow and require several host trees to acquire their nutrients. Furthermore, a single seed takes approximately 12 months to germinate and then another 15-30 years before the oils can be harvested.
Each species of sandalwood has a unique scent. Additionally, depending on how and where a tree is grown, oils harvested from the same species harvested in different areas also vary in smell.
For example, a recent study found that trees grown in the north and southwest of Australia had the highest concentration of α- and β-santalol. Sandalwood trees harvested in the southeast had lower fragrance compounds but higher allergenic constituents.
The most common sources of sandalwood essential oil are harvested from the following three species:
Indian Sandalwood (Santalum album)
Hawaiian Sandalwood (Santalum ellipticum)
Australian Sandalwood (Santalum spicatum)
Indian sandalwood is the most highly sought after variety. Unsustainable farming practices, fire, exploitative harvesting methods, smuggling and the destructive sandalwood spike disease have put this species at risk of extinction. These trees are currently listed on the International Union for the Conservation of Nature's Red List as a threatened species.
Large plantations of Indian sandalwood have been successfully established in western Australia, the northern territory, and Queensland. The plantations are run by Tropical Forestry Services. They have a contract with a pharmaceutical company to sell the oil for approximately $2045 per pound.
Oils extracted from Hawaiian and Australian species of sandalwood trees are also gaining in popularity because they are a more eco-conscious and affordable alternative to Indian varieties.
Without sufficient conservation efforts, more species of sandalwood might go extinct.
What to look for in an organic sandalwood essential oil: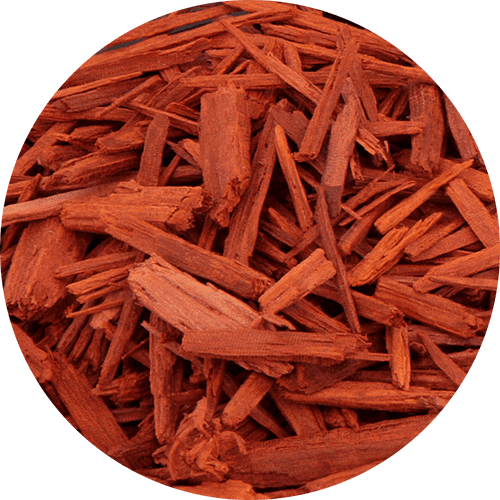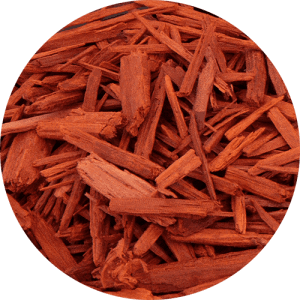 Organic certification
It's a good idea to check your oil for an official organic certification stamp. Just because a product is labelled as natural or pure doesn't mean that it meets high standards established by organic certifying bodies.
Glass UV-proof jar
Essential oils degrade faster when exposed to light. Glass bottles that are amber in color are best to prevent light damage. Additionally, plastic bottles should be avoided to reduce the chance of chemical interactions with the oil.
Dropper
Having a proper dropper lid is an important consideration and can save you money.
Droppers restrict the volume of oil that's released from the jar. In the process, this allows you to control where you're applying oil and prevent wasteful spills. It also helps to keep the contents of the jar clean from debris and contaminants.
Method of extraction
There are many ways to extract aromatic liquids from plant and tree materials. Sandalwood essential oil is traditionally harvested using steam distillation practices.
Country of origin and sandalwood species
There are many kinds of organic sandalwood essential oil on the market. Because of this, companies should clearly label both the country of origin the oil is from as well as the species of tree from which it was extracted.
Santalol concentration
Sandalwood is such a highly sought after essential oil that . There are many vendors sending oil blends or fragrance oils scented with sandalwood. If you're searching for an authentic essential oil, make sure that it clearly states santalol concentration on the bottle or that santalol test results are provided by the manufacturer.
Reviews of a few of the best organic sandalwood essential oils
This 100% pure organic sandalwood essential oil is harvested from Santalum Paniculatum on the Big Island of Hawaii.
It's sustainably harvested from a family owned and operated farm that's part of a sandalwood reforestation program. The oil is steam distilled from heartwood and produces a rich golden liquid.
The organic oil comes packaged in a glass amber jar with a european dropper. The lid makes for easy pouring and ensures that there is little waste.
One amazing feature of this oil is its sweet and warming aroma. It isn't as spicy as other kinds of sandalwood and produces a relaxing milder aroma than other varieties.
If you're looking for the therapeutic benefits of sandalwood with a milder scent this could be a good option for you. It's also cultivated in a much more sustainable manner than other varieties of sandalwood oil.
Organic certification is conducted through Ecocert and santatol test reports are available to confirm authenticity.
Here is a great USDA certified organic Australian sandalwood essential oil. It's pure, undiluted, and has a very powerful scent.
You'll want to use this product sparingly because it's highly concentrated and a little really goes a long way.
This product is labelled as KidSafe (when diluted) which gives peace of mind if you're using it with or around children.
Another feature we like about this oil is the labelled cap. If you're one who enjoys making oil blends, it's useful to have the tops labelled to help prevent cross contamination between your oils.
Here is another great option for sustainably harvested organic sandalwood.
It has a musky woodsy scent and blends well with other oils. It also makes a very exotic cologne or perfume and can easily be added to your skincare products.
This oil is produced from Australian Sandalwood (Santalum spicatum) and is USDA certified organic.
It has a deep woodsy scent with the classic sandalwood spice. This is a good option if you're concerned about the environment and are looking for a more eco-friendly and affordable alternative to the Indian sandalwood species.
This essential oil has been harvested from the Indian sandalwood trees that were ethically grown in Australia.
The oil is extracted using steam distillation and has a medium strength woodsy aroma. It's 100% pure, undiluted, and stored in a UV-proof glass jar with a european style stopper.
This Indian sandalwood is considered Kidsafe when diluted and has a clearly labelled lid to avoid misplacing caps on different oils.
If you're looking for sustainably harvested Indian sandalwood this might be a good option for you.
(Note, this particular oil is ethically produced but isn't organic).

20 great ways to use organic sandalwood essential oil
If you're looking for new and different ways to use your sandalwood oil, here are 20 easy ideas to get you started:
Blend with bergamot to promote a deep sleep
Use during meditation to promote clarity, focus, and connectivity
Mix with a carrier oil or unscented lotion for luxurious hydration
Add to diffuser to scent your home and cultivate it's aromatic benefits
Put a few drops in the bath to increase relaxation
Use in your aromatherapy car diffuser to stay calm during stressful commutes
Inhale straight from the bottle when stressed at work
Add to your household cleaner for added antimicrobial power
Give your face cream an anti-aging boost by adding a few drops of sandalwood
Infuse your laundry with a few drops in each load
Add to massage oil for an exotic and romantic experience
Add a few drops to a spray bottle with distilled water and freshen your rooms and linens
Use in your yoga mat spray for cleaning and relaxation benefits
Make sandalwood essential oil your study partner to help increase memory and promote focus
Inhale sandalwood oil through a warm facecloth to help relieve coughs
Apply a few drops to a carrier oil and wear as a natural perfume
Blend with lavender essential oil to reduce anxiety
Mix a few drops of sandalwood essential oil with your conditioner for added shine and moisture
Spritz your office space to clean the air and infuse with a great scent
Simply inhale the aroma straight from the bottle while travelling to reduce stress
Take away
Organic sandalwood essential oil is one of the most sought after and expensive essential oils in the world. This oil offers many benefits for meditation, health, and wellness.
For thousands of years, people across the globe have incorporated sandalwood essential oil into their spiritual, medicinal, and meditation practices. As science continues to confirm many of the traditional uses and health benefits of sandalwood, more people are turning to this natural product.
In order to keep up with such high demands, sandalwood harvesting in many countries have become exploitative. As a result, some species such as Indian Sandalwood (Santalum album) are considered species at risk.
Hawaiian Sandalwood (Santalum ellipticum) and Australian Sandalwood (Santalum spicatum) have become popular alternatives to the Indian variety. These two species produce beautifully fragrant essential oils and are often produced in more environmentally friendly fashion. Additionally, they're also more affordable and are easier to source certified organic.
In conclusion, organic sandalwood essential oil is an ancient oil with a long history of spiritual, medicinal, beauty, and aromatic applications. If you're looking to spice up your essential oil collection, sandalwood might be a great option for you.
We highly recommend organic sandalwood essential oils, for mind, body, and soul. As millions of people around the world can attest, sandalwood truly is a sacred oil!